Integrated Screw Oil Press Introduction
Integrated screw oil press is an advanced oil pressing machine nowadays in the market. It is used for processing edible oil from a wide range of oil plants such as peanuts, rapeseed, cotton seeds, sesame seeds, sunflower seeds and coconut seeds and so on.
Integrated Screw Oil Press Features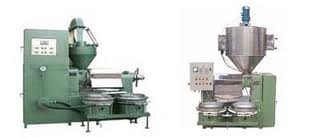 This integrated screw oil press is suitable for both cold and hot extrusion. It integrates the whole procedure of heating, expelling and filtering and is capable of controlling the working temperature automatically. Equipped with an electric pipe to heat the pressing case, integrated screw oil press can get the required temperature as soon as possible, which reduces the wear and improves oil output. The vacuum filter is installed to filter oil, which saves oil pressing time and simplifies working procedure.
Integrated Screw Oil Press Advantages
1. A wide range of application. It can press more than 20 kinds of oil plant seeds, such as soybean, peanut, sesame, rapeseed, sunflower, olive, palm, coconut and flax seed,etc.
2. High oil yield and purer oil. The equipped vacuum filter is used to remove residue to ensure the pure oil quality and meet the standards of health quarantine.
3. Labor and electricity saving. Screw oil press saves 60% labor for equal output, and one or two people are able to operate independently.
4. Covering little space. An area of 10-20m*m workshop is enough, thus it is suitable for small and medium size oil extruding workshops or professional oil mills.
Integrated Screw Oil Press Working Principle
Integrated Screw Oil Press utilizes the screw shaft which is set up with different styles of screws and rotates when the press is running to push the material into chamber. After pressing, the oil is expressed out through the exit and the cake discharged from the cake outlet.